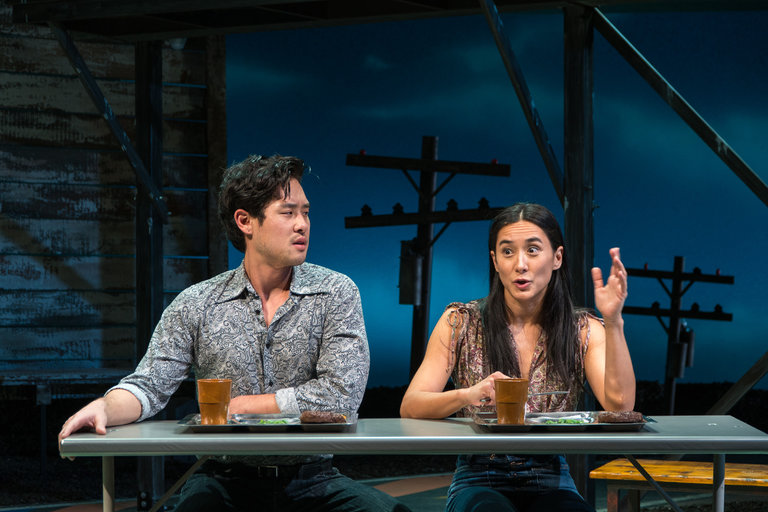 "For positive proof that in certain realms of theater, we have moved firmly beyond political correctness, see "Vietgone," a raucous comedy by Qui Nguyen that strafes just about every subject it tackles and every character it presents. Sure, sometimes it wobbles uncertainly between satire and sentiment, but Mr. Nguyen's fresh and impish voice rarely lets up as he thumbs his nose at our expectations.
As the character of the playwright (Paco Tolson) explains at the top of the show, the principals are Vietnamese who become refugees in America. The show is set in 1975, but these characters, he says, won't sound the way you might expect them to. Scanning the audience at City Center, where the play opened on Tuesday in a Manhattan Theater Club production, Tong (Jennifer Ikeda), a 30-year-old Vietnamese woman, observes, "Damn, there's a lotta white people up in here."This voice, the playwright reminds us, is more or less the opposite of the Asian one of stereotype, as in: "Herro! Prease to meeting you! I so Asian!" The Americans in the play, he adds, will speak like this: "Yee-haw! Get 'er done! Cheeseburger, waffle fries, cholesterol!" They do indeed.:
Source: Review: 'Vietgone,' a Refugee Tale With Laughs and Rap – The New York Times
My friend and director Lauren Keating highly recommends this play.  I haven't seen it.
Here are two comments after the reveiew:
I've seen both productions; having been blown away by what I saw at the Oregon Shakespeare Festival in the summer, I looked forward to a second viewing here. I thought the actors in Oregon rendered the play more compellingly; in particular, I thought Jeena Yi in Oregon occupied the character of Tong more convincingly, helped by her greater command of the rap idiom. The thrust stage in Oregon also put the actors in different proximity to that of MTC's standard type of stage, and that gave the OSF a certain immediacy that the MTC production loses with its traditionally configured house. Having said all that, this is a play so worth seeing: fresh, emotional, provocative. Highly recommended.
This was the most infantile piece of nothing".I left during the intermission, because I could not take it anymore.At least 40 people did the same.It was easy to count them as we were all gathering at the entrance waiting for the terrible rain to stop.
Fot the first time in 35 years I was really (!!)tempted to walk by the stage in a theatre and "BOOH"