The Tây Sơn Rebellion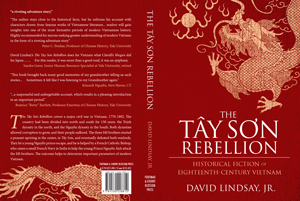 View the Book Jacket
Click Here to Purchase
Short Summary of The Tây Sơn Rebellion, Historical fiction of Eighteenth-Century Vietnam, by David Lindsay Jr
The Tây Sơn Rebellion, Historical fiction of Eighteenth-Century Vietnam, covers a major civil war in Vietnam from 1770 to 1802. Vietnam had been divided into north and south for 150 years, the Trinh dynasty in the north, the Nguyen in the South. Both governments were corrupt, and their people suffered, especially under the Nguyen.
The three Ho brothers, their sister and their parents live near the center of Vietnam in Tay Son. The local mandarin desires the sister, Jade River, as an extra wife, but the father, Physician Ho, turns the mandarin down. The father has already agreed to let his daughter marry a neighbor's son named Luong Hoang. The Ho family are upset when the father is arrested on trumped up charges by the corrupt mandarin. In order to free the father from jail, they must either sell the beloved daughter Jade River into marriage for cash, or hand her over to the mandarin as a slave.
Benoit Grannier is growing up in France, where he studies sword and becomes a naval cadet. He reappears near the end of American War of Independence, as a lieutenant in the French Navy, which plays a decisive role at the sea battle off of Yorktown in 1781, vital to American independence. The French Fleet is surprisingly large, and they defeat the smaller British fleet under Admiral Graves in about three hours of pounding.
The French Catholic Bishop, Pierre Pigneau, has a mission in Hatien, Vietnam. He and his elderly assistant are arrested by the local Nguyen Mandarin for teaching the gospel. In prison, they meet an educated scholar who has lost favor, and learn about Vietnam. The scholar explains how it came about that two dynasties rule one country.
The three Ho brothers start a peasant uprising in the center, in Tay Son, and eventually defeat Nguyen Dinh in the south, but let young prince Nguyen Anh escape. The prince is helped and hidden by the Bishop Pierre Pigneau, who later raises a small French Navy in India to help Prince Anh make war against the Ho brothers. Prince Anh is also aided by troops from Siam.
Second Ho brother Lu hurts his back, so the eldest brother Nhac sends his youngest brother Hue instead to lead their armies against the Trinh to the north. Success brings serious complications to the victors.